Ein neues Jahr und neue Pläne. Ich bin bereit für den #plaidishqal bei jessicaquilter ab dem 4. Februar 2022. Der Quilt hat eine Größe von 64" x 82" also 162,56 cm x 208,28 cm.
A new year and new plans. I'm ready for the #plaidishqal at jessicaquilter starting February 4th, 2022.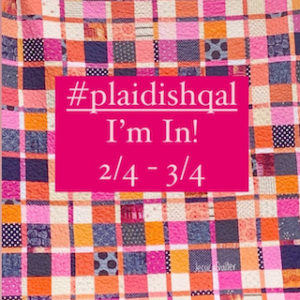 THE SCHEDULE:
Monday – 6th: Choose Fabrics
Friday – 10th: Cut Fabrics
Monday – 13th: Dark Blocks
Friday – 17th: Medium Blocks
Monday – 20th: Light Blocks
Friday – 24th: Assemble & Finish
Das Muster gibt es im @kitchentablequilting shop und, es ist ein kostenloses Muster. Herzlichen Dank für die Bereitstellung des Freebooks Erika. Ich bin so gespannt, ob ich alles gut machen und gut mitmachen kann. Also dann los! Auf meinem zweiten Blog hatte ich dieses Pattern schon als Bee-Block genäht. daher freut es mich, ihn nun endlich auch für uns zu nähen. 
The pattern is available at the @kitchentablequilting shop. And, it's a free pattern. Thank you for providing the freebook. I'm so excited to see if I can do everything well and participate well. So then, go!
On my second blog I had already sewn this pattern as a bee block. so I'm happy to finally be able to sew it for us.